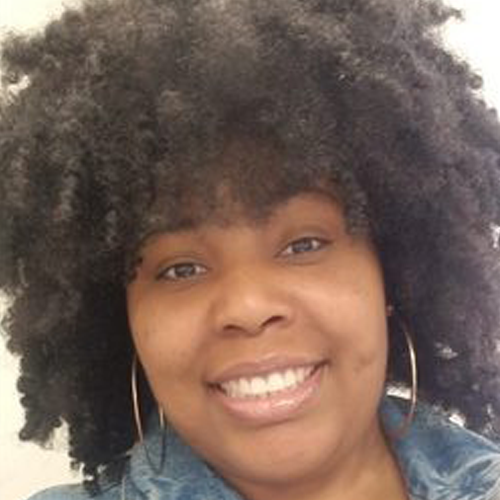 Sustainable Agriculture Specialist
Gulf States Regional Office
Topic Areas:
Food Equity, Livestock, Local Foods, Soil Health
Specific Areas of Expertise:
Grazing management, agroforestry, silvopasture, small ruminants, soil health/management
Asha Tillman is a native Mississippian with family in both rural and urban Mississippi that utilize sustainable practices in their operations. She was born into sustainable agriculture but did not realize it was a practice and did not recognize the benefits to the earth, our health, and quality of food until she started her graduate studies at Tuskegee University. While obtaining her Master's degree, she studied sustainable practices such as agroforestry and silvopasture but gained knowledge in other areas of sustainable agriculture like composting, soil management, and grazing management, as well. Asha's family had been very intentional about implementing low- or no-tillage practices when planting seasonal crops and her grandparents would use wildly grown shrubs as browse for goats and trees as shade for their livestock. All of these things made perfect sense to Asha as she began to learn the scientific background of these practices.
Education:
Bachelor of Science in Biology, Mississippi Valley State University
Master of Science in Animal Science, Tuskegee University
Previous Experience:
Research Assistant, August 2015 – July 2017
Tuskegee University, Extension Services, Tuskegee, AL
Collected, compiled, and analyzed data. Independently carried out ordinary data collection, such as observing diurnal behaviors of meat goats on selected browse species. Attended annual grantwriting workshops. Collected forage height, weight, seasonal growth, and percent defoliation at the Browse Research Site at Tuskegee University according to weather and/or overall climate. Collected bi-weekly fecal data of meat goats. Assisted and participated in Tuskegee's Cooperative Extension Program Field Day. Maintained equipment used to collect samples. Assisted in collecting forage and goat data at extension sites for research. Assisted and participated in Sustainable Year-Round Forage Production and Grazing/Browsing Management in Small Ruminants Workshop. Assisted and participated in Small Ruminant Disease and Parasite Management Workshop. Hosted weekly meeting with other team members and faculty. Presented research data at Professional Agriculture Workers Conference and Farmer's Conference held at Tuskegee University. Participated in and presented in regional and national collegiate/professional conference.