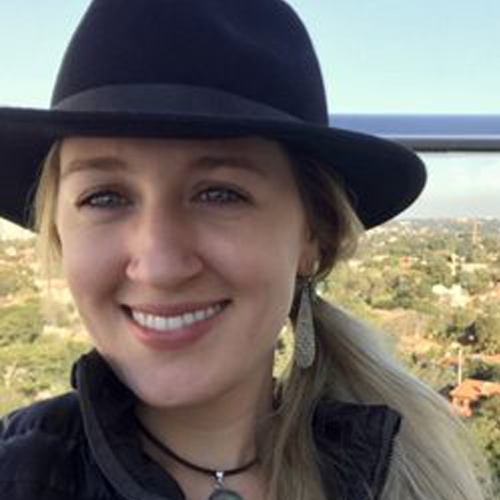 Sustainable Agriculture Specialist
Western Regional Office
Topic Areas:
Crops, Organic Crops, Food Equity, Local Foods, Pest Management, Soil Health
Specific Areas of Expertise:
Viticulture, agroforestry, silvopasture, fruit orchards, biodynamic farming, soil health, integrated pest management
Katherine Favor is a Sustainable Agriculture Specialist, based in the National Center for Appropriate Technology's Western Regional Office. She has worked on organic farms in California, Montana, and South America for over 10 years and was the manager of an organic vineyard for several years, as well. She spent two years in Paraguay with the Peace Corps, working on food security and agroforestry projects with small farmers, and two years in Argentina, researching vineyard agroforestry systems. She has also worked as an educational program coordinator and conference organizer for several environmental organizations throughout California. She is passionate about the intersection of natural resources conservation, food security, and community well-being, and has specialized experience in the utilization of perennials to create regenerative farmscapes.
Education:
Bachelor of Science in Viticulture with minor in Sustainable Agriculture, Cal Poly San Luis Obispo
Master of Science in Agroforestry, University of Missouri – Columbia
Previous Experience:
Educational Programming Coordinator, July 2020 – Feb 2021
Kiss the Ground, Los Angeles, CA
Developed and coordinated the educational programming surrounding screenings and discussion events for the acclaimed regenerative agriculture film, Kiss the Ground.
Graduate Student Researcher, August 2018 – December 2020
University of Missouri Columbia
Researched the effect of trees on grapevine growth and production parameters in agroforestry vineyards in Mendoza, Argentina.
Conference Organizer, April 2018 – June 2020
Soil Not Oil Coalition, San Francisco, CA
Organized, planned, and implemented the annual Soil Not Oil environmental conference; oversaw all communications and outreach operations; managed volunteers; led the 2019 strategic planning, theory of change, and organizational structuring processes; led monitoring and evaluation procedures.
Vineyard Manager, July 2017 – January 2019
Coastal Roots Farm, Encinitas, CA
Managed all functions of the vineyard and wine enterprise at Coastal Roots Farm, including developing enterprises, developing standard operating procedures, creating business plans, overseeing budgets, re-designing the vineyard, creating work plans and sustainability plans, overseeing volunteers and employees, and coordinating administrative operations. Also supported the design and operations of Coastal Roots Farm's agroforestry enterprise.
Agriculture Extension Agent, September 2014 – December 2016
United States Peace Corps, Caaguazu, Paraguay
Worked with women, youth, farmers, schools, committees, municipalities, and governmental organizations to promote sustainable agriculture, environmental conservation, health, ethics, and personal development in rural Paraguay; led community-wide agroforestry project with farmers; led food security and community gardens projects with women's committee; taught environmental education in schools, universities, and rural settings.
Multicultural Agricultural Program Manager, September 2012 – June 2014
Cal Poly San Luis Obispo, San Luis Obispo, CA
Managed and supervised the staff and services at the Cal Poly Multicultural Agriculture Program, including training staff, developing schedules, facilitating diversity education, and overseeing all managerial and clerical processes.
Organic Farm Enterprise Project Apprentice, September 2010 – June 2012
Cal Poly San Luis Obispo Fruit and Organic Farm Enterprise Project, San Luis Obispo, CA
Experience pruning, planting, growing, harvesting, and selling organic vegetables and fruit at farmers markets.
Current Professional Affiliations and Committees:
Educational Programming and Farmland Program Volunteer, Kiss the Ground, February 2021 – Present
Featured Publications and Presentations:
Favor, K., and R.P. Udawatta. 2020. Below ground services in vineyard agroforestry systems. R.P. Udawatta and S. Jose (eds.). In Press. Ecosystem Services of Agroforestry. Springer Nature, The Netherlands.