Especialista en Pastoreo Regenerativo
Oficina Regional del Suroeste
Áreas temáticas: Ganadería, Salud del suelo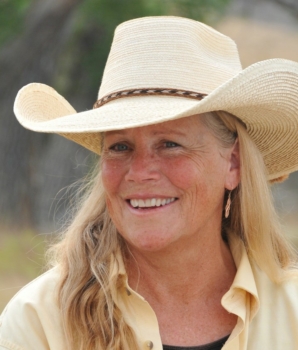 Áreas específicas de especialización: pastoreo, manejo y monitoreo de pastizales, selección genética y cría de ganado (ovejas, vacas, caballos, perros guardianes de ganado), biodiversidad, restauración basada en procesos; resolución de conflictos y creación de consenso
Linda se unió a NCAT en marzo de 2021 como especialista agrícola centrada en prácticas de pastoreo regenerativo. Las aventuras de la infancia en el rancho de su familia en el este de Washington la llevaron a un profundo amor por las tierras silvestres donde las personas nutren la naturaleza para producir alimentos saludables de manera sostenible, agua limpia y refugios para animales tanto salvajes como domésticos, y belleza permanente. Linda tiene una Maestría en Ciencias en ecología de la vida silvestre de la Universidad Estatal de Oregón. Ha pasado más de 30 años administrando grandes ranchos ganaderos para mejorar la biodiversidad y la resiliencia rural. Linda cría ovejas cruzadas de lana fina, usándolas para restaurar la vitalidad de una granja de pradera de 320 acres en el centro-norte de Montana. Su pasión es promover estrategias apropiadas para el contexto para producir alimentos saludables, fibra y familias, utilizando el uso mínimo de insumos externos, principios holísticos y el poder de diversas colaboraciones.
Educación:
Maestría en Ecología de la Vida Silvestre, Universidad Estatal de Oregón
Licenciatura en Ciencias Ambientales, Evergreen State College
Experiencia previa:

Gerente del Programa Glaciated Plains y Gerente del Rancho Matador
The Nature Conservancy en Montana
Sycan Marsh Preserve Gerente y Ecologista
The Nature Conservancy en Oregón. 1991 – 2007
Se desempeñó como el primer gerente de tiempo completo para Sycan Marsh Preserve de 30,000 acres en Oregon y más tarde para el Rancho Matador de 60,000 acres en Montana. Gestionó todos los aspectos agrícolas, ambientales, financieros y sociales de estas propiedades con el objetivo principal de utilizar el pastoreo de ganado bien administrado para mejorar el hábitat de la vida silvestre, la biodiversidad y la función del ecosistema, al tiempo que promueve el rendimiento del ganado.
Publicaciones y presentaciones destacadas:
Linda Poole explica que no hay un libro de como llevar acabo el pastoreo regenerativo, pero las redes son un ingrediente clave [Podcast]
Volver a la página del personal