Beyond Fresh: Exploring Value-Added Food Enterprises
By Mike Morris, Director of NCAT's Southwest Regional Office
A wise farmer friend once told me: "Over the years, we've learned that fresh vegetables are one of the least profitable things we do, for the amount of work they take." Value-added enterprises are one way to increase the profitability of growing those vegetables. And, in fact, in a recent survey of 400 ATTRA clients, the number one topic they wanted to see covered in more detail on our website was value-added products.
Awhile back, my friend Sue Beckwith and I were talking about how we could help farmers explore these value-added food enterprises that so many see as their best hope for increasing their net incomes. We decided to write a workbook, one that would take a "farmer first" approach. By this we meant that we were going to start, not with what consumers want, but with questions that are foremost in a producer's mind, such as "What crops can I grow?," "What do I enjoy growing?," and "Of the products I could make, which ones are most profitable?" We wanted to make the process of identifying, developing, and selling processed food products less intimidating.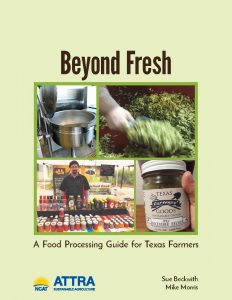 With a team of farmers, economists, and food experts, we created the decision-making workbook Beyond Fresh: a Food Processing Guide for Texas Farmers. We included tips, success stories, exercises, and worksheets. We covered product development, regulations, labels, food safety, packaging, market trends, and many other topics. We gave a lot of attention to how to evaluate the profitability of a food enterprise and how to fund a startup food business.
Sue and I also saw a need for user-friendly tools that could be used to estimate product profitability. Lacking the expertise to do this ourselves, we hired Dr. Rodney Holcomb and Dr. Timothy Bowser—two experts at the Robert M. Kerr Food & Agricultural Products Center at Oklahoma State University. They built us a series of profitability calculators (in Excel format) that show the return on investment and cash flow from any value-added product made at any scale—from home-cooked on a stove top all the way up to mass-produced in a stand-alone commercial processing facility.
The Beyond Fresh workbook and calculators came out in 2019, and both are available as free downloads from the ATTRA website here. You can also buy hard copies of the workbook for $19.95—highly recommended for working through exercises alone or with others in a group.
Here's a podcast where Sue and I talk about writing the Beyond Fresh workbook, why we both found this project so rewarding, and some of the surprising discoveries we made along the way. You can reach Sue or myself at sueb@texaslocalfood.org or mikem@ncat.org.
Incidentally, don't let the word "Texas" in the title fool you. The profitability calculators and almost everything in the workbook apply just as well to people outside of Texas. Wherever you are, I hope the workbook and calculators are useful to you as support as you cope with all the changes in your world.
For more information, contact Mike Morris directly at mikem@ncat.org.
Funding for the Beyond Fresh project came from a Southern SARE Research & Education grant (award number 2014-38640-22155).
https://attra.ncat.org/wp-content/uploads/2020/06/mike-and-sue.jpg
311
261
ncat-admin
/wp-content/uploads/2022/06/ATTRAlogo_RGB-340x156.png
ncat-admin
2020-06-10 09:35:50
2023-01-23 17:04:46
Beyond Fresh: Exploring Value-Added Food Enterprises