Grace Brown is the founder of Uncle Paul's Agritourism and Education Farm in Tyler, Texas. She started gardening in grade school, at her boarding school garden. Historically, her family did oyster farming in the ocean and also raised vegetables. She restarted farming in the backyard and founded Uncle Paul's Agritourism and Educational farm after demand increased well beyond what could be produced in the backyard.  
She cleared out two of her five acres, where she mostly grows collards kale mustards, sweet potato leaves, Egyptian spinach, Malabar spinach, various ethnic specialty crops, and a few types of peppers.  Clientele demand led her to this crop selection.  
Grace concentrates on leafy greens and ethnic specialty crops, and she uses companion planting and double-up planting to maximize space utility. She is using successional planting to extend the season and improve planting success. Most of what she plants is done by direct seeding, though she sometimes buys seedlings from the nursery. One thing she did differently this year was better seedbed preparation in advance of the direct seeding. Her operation is not certified organic, but she only uses OMRI-approved products. 
Grace says that what sets her operation apart is that she has completed produce safety training to be able to sell prepared packaged food. She packages value-added okra and greens. With her bag-to-pot concept, the produce is purchased ready to cook, with no extra preparation needed by the consumer.  She explains that she has many customers on the East Coast and little competition there, due to the limited growing season.  
She's had to purchase soil in the past to overcome losses due to erosion because the farm is on an incline. Brown amends soil with rabbit manure and worm castings. She plans to start raising her own rabbits in the near future. She is learning about how to prepare for rabbit production from a farm in Houston. 
Grace says she's now better able to gauge the weather after growing there for three years, but this year she says they moved directly from winter to summer. She shares her advice to self: get a degree in agriculture instead of other degrees. "Even though I attended HMI training, I wasn't prepared for the transition to Texas soils from the knowledge gained from farming in Africa," she said. 
She says that financing and recordkeeping are the biggest challenges for her. Lack of available labor makes recordkeeping a challenge because more time spent in the field is less time spent on other matters. She also says that working with NRCS was a challenge because they didn't supply an engineer when she requested one, and she had to try to figure out erosion issues on her own. She had to make costly decisions surrounding implementing erosion-control features. Grace says she uses her experience as an opportunity to instruct other farmers interested in getting hoop houses to be sure to get the engineer on site BEFORE starting construction. 
Grace says her neighbor has been very helpful when she needs tractor work but notes that most of her labor is manual. She explains that she has also received helpful information from ATTRA, NRCS, and Ag Marketing Service. She notes that the local folks mostly are retired and don't farm, joking that she works with 100 ranchers but doesn't have livestock.  
Grace applied for financing from the Small Business Administration and was awarded funds. She says she's been interested in applying for the Value-Added Producer Grant because her operation could also benefit from having a commercial kitchen, but she notes that lack of time is a hinderance in applying. She says that NRCS has provided the help with the most impact because they have helped her get three hoop houses.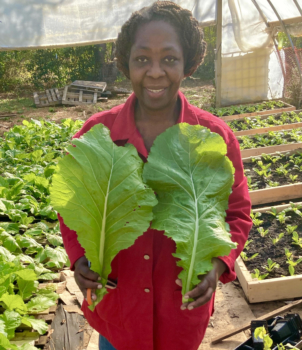 According to Grace, organizations could better help the community by educating producers about the different grants available. She notes that there are so many application items that many FOC don't know about. For example, she was excited to try for the microloan from FSA but then found out that they wanted to put a lien on her entire property. Brown says her experience was different than that of others from other racial groups she spoke to about the program. She stated that there need to be very clear, concise directions and explanations. "County offices are telling different folks different things and this causes a great deal of confusion," she said, and this makes it hard to trust and work with USDA agencies. 
Grace says the greatest barriers for other farmers in the area are lack of knowledge and marketing. Some still haven't adopted the use of social media, nor are they using efficient Irrigation and wells rather than relying on rain. Her advice to farmers is to work with folks who are honest with the information and want to help. She compliments staff from NCAT's ATTRA program in this regard. 
Grace is located in a rural food desert, and the community benefits from her being a farmer because the nearest store is 20 minutes away. There are only convenience stores in the area, and they don't have fresh vegetables. She says that success for her would be being able to supply meat along with her vegetables, to be a one-stop shop, and doing this full-time. She plans to leave her farm to her son and daughter, who are already doing programs for youth in their respective fields. "The farm CANNOT just be sold," she said. 
https://attra.ncat.org/wp-content/uploads/2022/08/G-Brown-image-1-50756097.jpg
2341
2366
Emilie Ritter
/wp-content/uploads/2022/06/ATTRAlogo_RGB-340x156.png
Emilie Ritter
2022-08-18 14:47:30
2022-08-18 14:47:30
Grace Brown