Preparing a Resilient Future
Stay tuned for future OARS sessions in South Dakota and Wyoming as well as additional sessions in Montana and Nebraska through 2023 and 2024.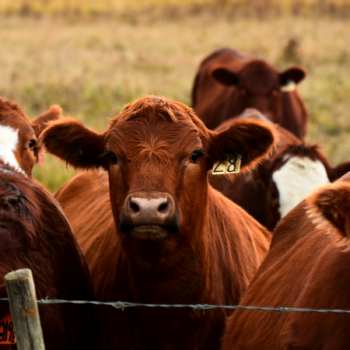 Being a certified organic small grains and livestock farmer or rancher is a significant challenge in the semi-arid dryland cropping and grazing lands of the northern Grain Plains. Programs that help beginning farmers tend to focus on organic specialty crops like fruits, vegetables, tree nuts, and flowers. Only about 25% of USDA Beginning Farmers and Ranchers Development (BFRD) programs train and educate beginning farmers to focus on commodity field crops such as, wheat, barley, lentils, chickpeas, dry peas and beans, oilseeds, and livestock. 
The National Center for Appropriate Technology is leading a regional partnership, funded through the USDA BFRD program, to help more than 300 beginning farmers and ranchers across the Northern Great Plains explore the value, viability, and resilience of raising organic field crops. 
The Montana Organic Association, Northern Plains Sustainable Agriculture Society, Center for Rural Affairs, the Intertribal Agriculture Council, Nebraska Sustainable Agriculture Society, International Organic Inspectors Association, North Dakota State, and University of Wyoming are providing a supporting role to this effort. 
Unlike most programs focused on beginning farmers and ranchers, this project targets medium to large-scale field crop and livestock operations. This project is unique in that it will help beginning farmers and ranchers fully explore the economic and productive viability of organic systems in this region. We also will open this exploration to the communities of this vast region. Specifically, NCAT and several partner organizations will present a total of 10 Organic Academy Roadshows (OARS) over the next two years in the states of Montana, North Dakota, South Dakota, Nebraska, and Wyoming. In addition, the project team will host intensive training sessions, one-on-one technical assistance, and on-farm workshops and tours. 
This section is intended for beginning farmers and ranchers who have participated in the Preparing a Resilient Future project for exploring organic small grains and livestock production. You'll find information about the project, scheduled trainings, and more. 
Interest in growing organic small grains and other field crops in the Northern Great Plains is on the rise, and lucrative markets for these crops are expanding. 
Research shows that organic vegetable and specialty crop growers are meeting the national demand in the U.S. because there's a net export of their products. At the same time, organically grown field crops are being imported into the U.S. at stable and sometimes increasing rates. 
The Northern Great Plains is the number one organic wheat- and pulse-producing states in the country. Organic farmers and ranchers in this region are uniquely positioned to provide education as well as opportunities to meet, learn, collaborate, mentor, do business, and more. 
NCAT and the project collaborators will host intensive training sessions, one-on-one technical assistance, and on-farm workshops and tours. The training will be conducted in day and half sessions. Importantly, experienced organic farmers and ranchers are some of the lead trainers in this project.   
In addition to the farmers and ranchers taking part, the sessions will include other members of their agricultural communities, including civic leaders, county Extension agents and officials from USDA agencies such as the Farm Service Administration and the Natural Resources Conservation Service. 
That outreach is vital as support for the beginning farmers and ranchers and to introduce organic farming and ranching to the agricultural community in their area. 
Since 2013, NCAT has supported more than 900 military veteran farmers through its Armed to Farm intensive training programs around the country. 
In addition, NCAT and the Montana Organic Association have undertaken many training workshops that have included tribal members, who make up about 2 percent of all new beginning farmers in the Northern Great Plains. 
That emphasis on diversity will be reflected in the Preparing a Resilient Future project, which will include at least 50 veteran, limited-resource, tribal, and socially disadvantaged participants. 
Organic Academy Roadshow Details
Join us January 26-27, 2023, at the Holiday Inn in Fargo, North Dakota.
Agenda, January 26-27
January 26, 2023
8:00-9:00 a.m.: Attendees arrive and register.
9:00-9:30 a.m.: Welcoming: Jeff Schahczenski, Agricultural and Natural Resource Economist, NCAT
9:30-10:30 a.m.: Interactive "World Café" session. Question is: Why might you be interested in becoming an organic farmer/rancher?
10:30-10:45 a.m.: Break
10:45 a.m.-12:00 p.m.:  An Organic Story: Doug Crabtree and Paul Neubauer present on Vilicus Farms.
12:00-1:00 p.m.: Lunch
1:00-2:15 p.m.: "Introduction to the Organic System Plan," by Wendy Paulsen, International Organic Inspectors Association.
 2:15-3:15 p.m.: "Organic Grass-finished Ruminant Production," by Jess Alger and Paul Neubauer.  Jess Alger, organic farmer and rancher, Alger Ranch, Stanford; Paul Neubauer, Vilicus Farms.
3:15-3:30 p.m.: Break; get ready for tour
3:30-5:30 p.m.: Tour—North Dakota State University Farm Breeder Network
5:30-7:00 p.m.: Cash bar and dinner
7:00-9:00 p.m.: Community Night
Doug introduces topic and gets attendees to introduce themselves.
 "The Greatness and Challenges of Organic Farming and Ranching," Jeff Schahczenski, Agricultural and Natural Resource Economist, NCAT.
January 27, 2022
OARS Participants join NPSA conference
8:30-9:30 a.m.: OARS participants attend one of two sessions:
Perennial Flax: A New Crop for Sustainable Ag in the Northern Plains by Dr. Burton Johnson
Strip-till Corn in Established Rotational Organic Alfalfa by Steve Enger
9:30- 11:00 a.m.: OARS participants attend Keynote of NPSAS Conference—The Farmer's Lawyer Saving Your Organic Farm by Sarah Vogel
11:15 a.m.-12:15 p.m.: OARS participants meet in separate room for final session, where we review using Forum for future communication and any lingering questions and distribute post OARS survey. Goodbyes.
Speaker Bios
Jess Alger, Alger Ranch
Jess grew up on a family Ranch North of Stanford.
He graduated MSU Bozeman with a B.S. Degree in Animal Science in 1971.
Jess artificially inseminated the cows for a few years. He tried his hand at team roping with a one-eyed team roping horse. The crops he grew in those years were: alfalfa, barley, winter wheat and sweet clover for hay.
In 1981 due to his dad's health problems the folks sold him the ranch.
In 1996 Jess bought a 100-foot sprayer and started custom spraying for neighbors. It seemed to him that the more chemicals they wanted added to the mix, the more weeds they had. It was the same on his place—the more chemicals he used, the more weeds he had.
In 2000 Jess began the process of organic certification and was fully certified by 2004.  In 2006 he did everything right to get the cows certified organic except the mineral and salt. Yellow food coloring and non-organic filler were not approved. In 2007 he used Redmond Salt #4 and New Life Mineral and was approved for full organic certification.
He rotates his cattle through 39 pastures over the course of a year. This current year (2022) he grew: Kamut, emmer, winter wheat, peas, Kernza, and cover crops for the cattle. He planted Rye for fall and spring grazing. He has red Angus cow-calf pairs and after he weans the calves, he keeps them for 18 months to two years. He has been selling them to Panorama Meats in Brush, CO, and Montana Premium Processing Co-op will be butchering the beef by middle of November this year. He also will sell some of his beef locally.
Anna and Doug Crabtree, Vilicus Farms
Anna and her husband Doug own and manage Vilicus Farms, a first generation, organic, 12,508-acre dryland crop farm in Northern Hill County, Montana growing a diverse array of organic heirloom and specialty grain, pulse, oilseed, and broadleaf crops under five and seven-year rotations. In fourteen seasons, Vilicus Farms grew from 1,280 acres to be a nationally recognized farm by using USDA's beginning farmer programs, employing extensive conservation practices, and fostering unique risk sharing relationships with food companies and land investment firms. Over 26% of their land is in non-crop conservation and 400 acres seeded to native pollinator habitat. Annually they seed over 3,000 acres of cover crops and use integrated grazing. Vilicus Farms became Bee Better certified in 2019, Real Organic Project Certified in 2019 and has been transitioning towards Demeter Biodynamic certification.
Vilicus Farms offers the only structured organic grain farming apprenticeship in the U.S. with the vision of incubating new organic agricultural enterprises. They have hosted 14 apprentices, many interns and more farm campers than can be counted. Three new agrarian enterprises are under incubation at Vilicus Farms: a grazing operation integrated into the cropping system, an organic seed production operation, and a value-added rye enterprise.
Vilicus Training Institute (VTI) launched in 2015 to inspire increased scope and scale of organic land management across the Northern Great Plains. VTI is a not-for-profit learning laboratory that cultivates collaborations enabling both new organic land stewards and the circumstances that support their prosperous stability. VTI is a founding board member of the Montana Agrarian Commons. Projects include mapping risk/reward sharing mechanisms so they can be equitably aligned in the organic crop supply chains, documenting pathways for incubation of new at scale agrarian enterprises, developing organic grain farming apprenticeship curriculum and implementing associative economy principles to enable farm viability.
Anna is a Donella Meadows Leadership Fellow and a recipient of the White House Greening Government Sustainability Hero Award. She holds a Ph.D. in Civil and Environmental Engineering with a minor in Sustainable Systems from Georgia Institute of Technology. Anna served on the USDA Secretary's Advisory Council on Beginning Farmers & Ranchers. She currently serves on the Xerces Society Bee Better Advisory Board, Iroquois Valley Farmland REIT's Board of Directors, and the Biodynamic Alliance's Economy Advisory Board. Given the realities of farming, Anna still has an off-farm job with the USDA Forest Service. After several decades fostering more sustainable operations she is now currently serving as the Director for Data Governance for the Northern Region.
Doug serves as Board Member of the Organic Trade Association and the past Board Chair of the Montana Organic Association. He also manages crop contracts for the Montana Organic Producers Cooperative.  Prior to launching the farm Doug managed the State of Montana's Organic Certification Program. He has worked as an organic inspector, agricultural researcher and farm manager. Doug holds a B.S. in Agricultural Economics from Purdue University and a M.S. Agronomy from South Dakota State University.
Anna, Doug, and their three Jack Russell Terriers, are avid members of the Lentil Underground (http://lentilunderground.com/).
Wendy Paulsen, MCIA
Wendy Paulsen has been a Staff Certification Specialist/Inspector at the Minnesota Crop Improvement Association (MCIA) for more than seven years. She works on all aspects of certification, from talking to new clients to issuing certificates, and works in all scopes of certification including crops, livestock, and processing. She coordinates and provides annual training for MCIA inspectors. Prior to this, she was an independent contract inspector for 10 years, working for a variety of certifiers across the Midwest and over to Montana. She has also served as a group field trip leader in IOIA inspector training courses. She keeps busy by expanding her garden and orchard every year and is now eating her last fresh apples from a great 2022 harvest!
Jeff Schahczenski, NCAT
Jeff Schahczenski is an Agricultural and Natural Resource Economist with the National Center for Appropriate Technology. His work includes publication of studies and education on crop insurance, conservation, national agriculture public policy, transgenics (genetically modified organisms), blockchain agriculture supply-chain management, soil health, biochar, and the role of agriculture in climate disruption. He was a past elected member of the Organizational Council of the National Sustainable Agriculture Coalition, Executive Director of the Big Hole River Foundation, and the Western Sustainable Agriculture Working Group (WSAWG). He also has served as an adjunct instructor at Montana Technological University, Montana Western University, and the University of Montana.
Jeff has built his own straw bale house and greenhouse. He raises poultry and has been a commercial beekeeper. Before moving to Montana in 1991, Jeff worked for Rutgers University, started one of the first CSA (Community Supported Agriculture) farms in New Jersey, received graduate degrees in agricultural economics and political science, served in the Peace Corps in Belize, Central America, and worked many summers on his grandfather's dairy farm in Wisconsin.
In 2021, Jeff wrote two funded proposals valued at $2.7 million. These two regional projects include this project with beginning farmers and ranchers in the northern Great Plains (MT, NE, ND, SD, and WY) on transitioning to organic grain farming. Jeff also is co-director of a project led by Montana State University working with the Southwest and Northern plains USDA Climate Hubs focused on issues of climate disruption and crop insurance.