Armed to Farm Map Connects Farmer Veterans Across the U.S.
By Margo Hale, Armed to Farm Program Director
For more than 10 years, I have led NCAT's efforts to train and provide technical assistance to military veterans who are interested in farming. This started with a series of workshops for veterans in 2011, and then in 2013 we hosted our first Armed to Farm training. In the first decade of Armed to Farm, we have hosted 38 week-long trainings that have reached more than 1,100 participants from 47 states. It has been an honor to meet hundreds of farmer veterans and watch them continue serving their communities and country as they grow healthy food and fiber.
During the first Armed to Farm training in 2013, I saw an unexpected outcome develop on its own—a network of farmer veterans. I had conducted numerous workshops before that first Armed to Farm but had never experienced the immediate connection among participants. Their shared experiences in the military, and now in farming, led to trust and a willingness to connect. As that first Armed to Farm training came to a close, the participants made it clear that they wanted to stay connected to each other. They were from different states, had different farming enterprises, and were from different branches of military service, but they wanted to continue to learn from and support each other. Farming has countless challenges, but having a supportive network of peers can turn those challenges into opportunities.
We've seen this desire to stay connected over and over at Armed to Farm events. As a result, we've developed new tools—such as Armed to Farm 2.0, veteran-specific workshops, and in-person and virtual networking events—to help farmer veterans stay in touch. Those resources also allow us at NCAT to continue to help farmer veterans throughout their farming or ranching journey.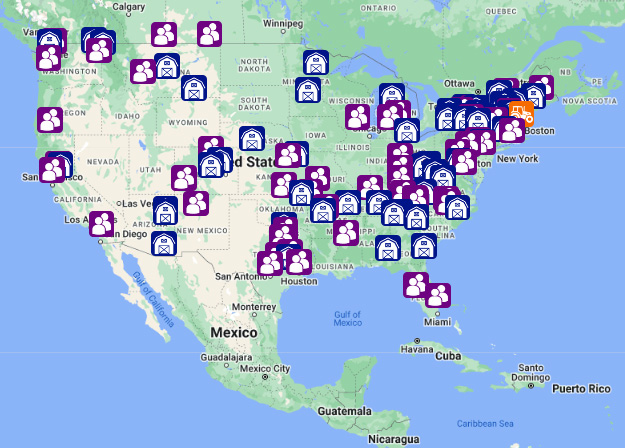 We developed the Armed to Farm Map as another tool to foster the farmer veteran network. This tool allows farmer veterans to identify peers, potential farm employment, available farmland, and support organizations in their communities and across the U.S. It also serves as a resource for customers who want to support veteran-owned farms.
Please help us further connect farmers, veterans, and organizations by adding to our Armed to Farm Map. Check out the current listings here, then add your own farm or organization's information.
Another great way to stay connected with the Armed to Farm network is to subscribe to our quarterly newsletter. We'll share updates on available training events, alumni stories, funding opportunities, and more.
Join our network today. We'd love to have you!
Related ATTRA Resources:
'Modern Farmer' Features Armed to Urban Farm Alum
Episode 167. Veterans Discuss USDA Programs
Episode 271. Farmer Veteran Finds Passion in Horticulture Therapy
This blog is produced by the National Center for Appropriate Technology through the ATTRA Sustainable Agriculture program, under a cooperative agreement with USDA Rural Development. ATTRA.NCAT.ORG. 
https://attra.ncat.org/wp-content/uploads/2023/08/NY-ATF-alumni-cropped.jpg
1200
1500
Cathy Svejkovsky
/wp-content/uploads/2022/06/ATTRAlogo_RGB-340x156.png
Cathy Svejkovsky
2023-08-22 07:54:01
2023-08-22 09:02:03
Armed to Farm Map Connects Farmer Veterans Across the U.S.