Diann Woods has been farming for the past 22 years in Wharton County, Texas. She graduated from the Texas Woman's University with a Bachelor of Science in Food Science and Nutrition and then worked for the Texas Health Department. Through her work and studies, she realized that the only way at the time to learn about farming was to get into farming, so she began Milliesbarn Veggie Farm. Throughout her agricultural journey, Diann has continuously adapted to nature by learning and trying different farming techniques.  
She manages 12 acres without any synthetic inputs. Diann calls it "beyond organic" because they also incorporate input-free and regenerative agriculture techniques. Her farming operation is highly diverse. She has five acres under intensive rotational farming, one acre of watermelons, one and a half acres of okra, and the rest varies based on the season. Additionally, she has been making added-value products like jams and fruit wines to keep streams of income when the veggies don't do well. As the weather changes, the farm's management system changes, and she is constantly looking for ways to make things more efficient and easier. Currently, she is doing agroforestry and honey production and is planting climate-resilient plants since she travels often. 
Through her agricultural journey, Diann faced the major challenge of not being able to secure funds. She explained that when she first began farming, gender and skin color played a role in getting loans from banking institutions. In addition, she did not have a bank account set up at the time. Her husband encouraged her to do things by herself and claim full ownership of her operation by not relying on him for the loan. This barrier did not stop Diann, and she reached out to her friends, family, and former colleagues about starting a CSA where they would pay a monthly subscription, and in return, she would provide them with fresh produce once a week. She also began to sell to restaurants to increase her profits. These proved to be extraordinarily successful ideas, and soon she had money flowing into her bank account. Through a credit union, she bought a tractor and continued her operation in full force. The bank noticed the influx of money and finally decided to allow her to get a loan. However, her CSA was so successful that she didn't need it anymore. After managing the CSA for a while, she began seeing farming as a business, and she wished she had known about the taxes and IRS Schedule F.  
The greatest challenges for Diann are acquiring the right equipment and adjusting to climate change. She described how the climate has become very harsh, and the seeds don't grow like before. This has pushed them to do more transplants, since they are more resilient to climate shock, although it is more labor- and time-intensive without proper equipment.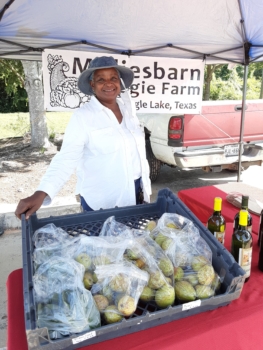 In her journey as a farmer, Diann has used different tools and resources from various organizations. She mentioned that through the Texas Organic Farmers & Gardeners Association and ACRES USA she was able to meet other BIPOC people trying similar farming techniques. Additionally, she was part of a project to grow organic strawberries with Prairie View A&M University. It was through this project that she met Justin Duncan, Sustainable Agriculture Specialist with the National Center for Appropriate Technology (NCAT), who introduced her to NCAT resources. Diann mentioned that through NCAT she learned more about the business of farming and was able to participate in a workshop in the Rio Grande Valley where they taught about setting up a farmers market, maintaining soil health, and cover cropping. Of all the networks she participates in, she described Prairie View A&M as being extremely helpful, since they research relevant topics, and she is currently waiting to hear whether she will be part of an upcoming cover crop research. While these networks have been helpful to Diann, she believes that what would really help small-scale farmers is an equipment-sharing program.  
After 22 years of farming, Diann considers herself very successful as her farm has been profitable. She is a big advocate for local foods and often tries to convince her family and neighbors to grow food themselves. She supports her community by donating produce surplus to those in need. Diann would like people in her community, regardless of race, to realize that anyone can do what she did, and that they could form a community partnership and grow together.  
https://attra.ncat.org/wp-content/uploads/2022/08/Diann-Woods-scaled.jpg
2560
1920
Emilie Ritter
/wp-content/uploads/2022/06/ATTRAlogo_RGB-340x156.png
Emilie Ritter
2022-08-18 14:24:54
2022-12-19 17:16:46
Diann Woods