Linda Poole
Regenerative Grazing Specialist
Southwest Regional Office
Topic Areas: Livestock, Soil Health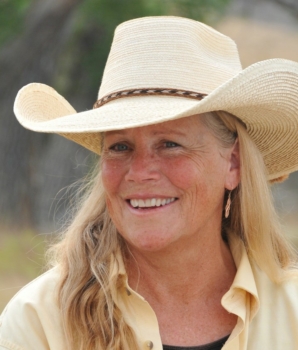 Specific Areas of Expertise: Grazing, rangeland management and monitoring, genetic selection and husbandry of livestock (sheep, cattle, horses, livestock guardian dogs), biodiversity, process-based restoration; conflict resolution and consensus building
Linda joined NCAT in March 2021 as an ag specialist focused on regenerative grazing practices. Childhood adventures on her family's ranch in eastern Washington led to a deep love of working wildlands where people nurture nature to sustainably produce wholesome food, clean water, and havens for animals both wild and domestic, and abiding beauty. Linda has a Master of Science in wildlife ecology from Oregon State University. She's spent over 30 years managing large cattle ranches to enhance biodiversity and rural resilience. Linda raises crossbred fine wool sheep, using them to restore vitality to a 320- acre prairie homestead in northcentral Montana. Her passion is advancing context-appropriate strategies to produce healthy food, fiber, and families, using minimal outside inputs, holistic principles, and the power of diverse collaborations.
Education:
MS in Wildlife Ecology, Oregon State University
BS in Environmental Science, Evergreen State College
Previous Experience:

Glaciated Plains Program Manager and Matador Ranch Manager
The Nature Conservancy in Montana
Sycan Marsh Preserve Manager and Ecologist
The Nature Conservancy in Oregon. 1991 – 2007
Served as the first full-time manager for the 30,000-acre Sycan Marsh Preserve in Oregon and later for the 60,000 acre Matador Ranch in Montana. Managed all agricultural, environmental, financial, and societal aspects of these properties with the primary goal of using well-managed cattle grazing to improve wildlife habitat, biodiversity, and ecosystem function while also promoting livestock performance.
Featured Publications and Presentations:
Linda Poole Explains There's No Cookbook for Regenerative Grazing but Networks are a Key Ingredient [Podcast]