Provenza has a Recipe for Plant, Animal, and Human Health
By Rich Myers, NCAT Outreach Specialist
If you look at the contents of a good grazing pasture as a recipe, phytochemicals might be the secret ingredient.
Or if not exactly secret, according to Dr. Fred Provenza, at least an ingredient whose role in health – soil, plant, animal, and human – has traditionally been under appreciated.
Phytochemicals are chemical compounds produced by a plant's metabolism. They generally are biologically active in the plant and play a role in its growth or defense against competitors, pathogens, or predators.
Dr. Provenza will be among the featured speakers at NCAT's first Soil Health Innovations Conference in March. He will be discussing "How Palates Link the Health of Soil and Plants with Livestock and Humans."
"For herbivores," Provenza said, "the bulk of any one meal is typically comprised of three to five plants, but they often eat small amounts of 50 to 75 plants during the day. Historically, we did not appreciate that the nutritional and pharmacological properties of these minor components of the diet—best eaten in small doses—enable health."
"Foodscapes with complex mixtures of grasses, forbs, shrubs, and trees are nutrition centers and pharmacies with vast arrays of phytochemicals. The mix of plants in turn affects the health of the soil, plants, and animals."
Provenza said his research has shown that animals choose plants to eat not only because of how the plants taste, but because of what the plants offer. And that includes the plants that aren't the major components of their diets.
"This whole notion that palatability is more than a matter of taste. It really involves, as we've shown over and over again, feedback that's coming from cells and organ systems including the microbiome, and that feedback is in response to needs that are being met by what we consider nutrients: energy, proteins, vitamins, and minerals.
"But also these tens of thousands of so-called secondary compounds that plants produce that we've realized over the last 40 years of ecological research aren't secondary at all.
"They're fundamental for ecosystem health at all levels, from soil to plants through mediated interactions, including the health of animals, and then that scales up to our health when we eat plants or when we eat animals that are eating really diverse styles.
"I'm really … so pro this idea of plant diversity and the importance of plant diversity to the health of ecological systems. I see plants as the glue that links everything within systems."
Biography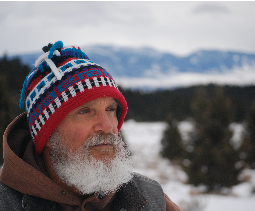 Fred Provenza grew up in Salida, Colorado, working on a ranch while attending school in Wildlife Biology at Colorado State University. He is professor emeritus of Behavioral Ecology in the Department of Wildland Resources at Utah State University where he worked for 35 years, directing an award-winning research group that pioneered an understanding of how learning influences foraging behavior and how behavior links soil, plants, herbivores, and humans.
He is one of the founders of BEHAVE, an international network of scientists, ranchers, farmers, and land managers committed to integrating behavioral principles with local knowledge to enhance environmental, economic, and cultural values of rural and urban communities.
He is the author of three books, including Nourishment: What Animals Can Teach Us About Rediscovering Our Nutritional Wisdom; Foraging Behavior: Managing to Survive in a World of Change; and The Art & Science of Shepherding: Tapping the Wisdom of French Herders (co-author with Michel Meuret).
He has published over 300 research papers in a wide variety of scientific journals. He has been an invited speaker at over 500 conferences. The many awards he received for research, teaching, and mentoring are the creativity that flowed from warm professional and personal relationships with over 75 graduate students, post-doctoral students, visiting scientists, and colleagues during the past 45 years.
More Information
ATTRA Podcasts
A Talk with Fred Provenza. Part 1
A Talk with Fred Provenza. Part 2
Books by Fred Provenza
Nourishment: What Animals Can Teach Us About Rediscovering Our Nutritional Wisdom
Foraging Behavior: Managing to Survive in a World of Change
The Art & Science of Shepherding: Tapping the Wisdom of French Herders
Please complete a brief survey to let us know your thoughts about the content of this post.
https://attra.ncat.org/wp-content/uploads/2021/01/Fred-Provenza800x600.jpg
600
800
ncat-admin
/wp-content/uploads/2022/06/ATTRAlogo_RGB-340x156.png
ncat-admin
2021-01-28 12:59:16
2022-09-26 11:29:10
Provenza has a Recipe for Plant, Animal, and Human Health