Mississippi Food Justice Collaborative: Transforming Mississippi Food Systems
By Asha Tillman, NCAT Agriculture Specialist and Co-Coordinator of the Mississippi Food Systems Fellowship
Food culture is very rich here in Mississippi. No matter where your adventures lead you, food will navigate you across the state to people, culture, landmarks, history, and all of the things that I feel make The Magnolia State so great. I have always had a special interest in Mississippi's food culture because it's so diverse and unique in all of its goodness! I love the multicultural food scenes of central Mississippi, yet the people and places of the Mississippi Delta take me back to special childhood memories of family gatherings with homegrown food fresh out of the garden cooked and prepared with love. It is no wonder that I am here, in spite of troubling times, finding beauty in the place I call home. Or that my professional pursuits are based in local food systems.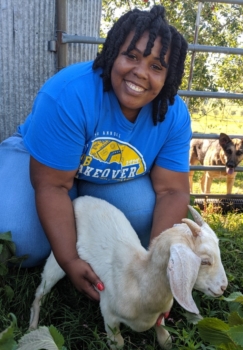 Through my work at the NCAT Gulf States Regional Office, located in downtown Jackson, Mississippi, I have had the opportunity to work with an influential team of food-justice leaders throughout the state as part of the Mississippi Food Justice Collaborative. These leaders are farmers, community organizers, network-builders, land stewards, and advocates for food justice in their communities who have built relationships with each other since 2016, when the Collaborative was formed.
Collaborative Partners Come Together
Today, the Collaborative consists of eight different groups: NCAT Gulf States Regional Office, Mileston Coop, Mississippi Farm to School Network, FoodCorps Mississippi, Mississippi Band of Choctaw Indians, Boat People SOS, Hijra House, and the Mississippi Food Policy Council. The work of the Collaborative partners is focused within four major regions of Mississippi: Mississippi Delta, Mississippi Band of Choctaw Indians (Choctaw, MS), Metro-Jackson area, and the Mississippi Gulf Coast. These four regions are home to a large number of African-Americans, Choctaw, Vietnamese, and Hispanic communities that face unique barriers and challenges to accessing healthy food and more positive health outcomes. Systemic racism plays a deeply rooted role and continues to have an impact in these four regions. With legacies of racial injustices, the most vulnerable Mississippians continue to be impacted by vicious cycles of poverty, economic insecurity, mass incarceration, ill health, food insecurities, and unsafe environments.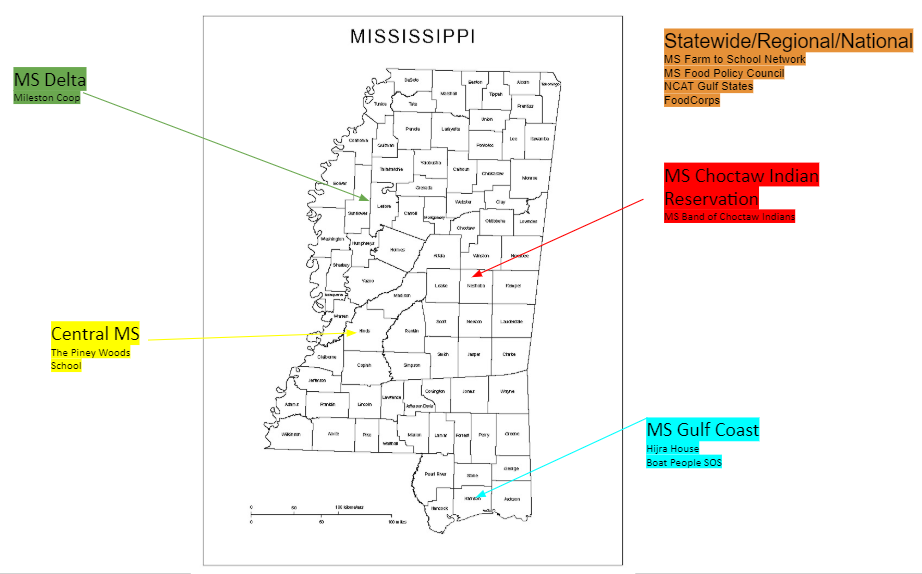 When the Collaborative was formed, each partner agreed on some common beliefs that undergird their work. These began as simple "We Believe" statements that the group developed through consensus and have gradually developed into the Beliefs, Values, and Principles of the Collaborative, which continue to guide our Mississippi food systems work. The Mississippi Food Systems Fellowship was born out of the Collaborative and formed to nurture systems thinkers and support the growth of regional Black, Brown, and Indigenous food systems leaders throughout the state. Earlier this year, 20 fellows were selected from four regions of the state to be part of the first-ever Mississippi Food Systems Fellowship cohort to deepen and grow their knowledge of Mississippi food systems.
I was introduced to the Collaborative as an NCAT Ag Intern during a 2019 summer meeting last year, where Collaborative partners reconnected, reflected, and discussed how to continue deepening their work together. As each partner reflected on the impact the project had on their communities, I listened and observed the power of the people of Mississippi that I had never been exposed to. I was able to look at Mississippi's food systems through the eyes of the Collaborative members fighting for systemic changes in their communities, and it had me in awe.
Building a Healthier Future
A couple months later, the Collaborative reconvened on the Mississippi Gulf Coast for a two-day meeting, during which the beliefs, values, and principles were being finalized as a group and my purpose in helping to improve Mississippi's food systems started to resonate with me. I had this idea that I would intern for NCAT with the hopes of becoming a full-time employee doing work in livestock only (because that is my background expertise). I did not realize how all areas of agriculture and other areas of the economy tied into food systems. As the work of a better Mississippi food system continues, I have experienced increasing growth, both personal and professional, by becoming Co-Coordinator of the Mississippi Food Systems Fellowship.
In the past few months, at the height of a global pandemic, marginalized communities have suffered the most—underscoring that we must continue the fight for a more just and equitable Mississippi food system. COVID-19 has heavily impacted the state with over 1,000 new cases each day. As things unfold, and we face new struggles of injustices, the Mississippi Food Justice Collaborative and Mississippi Food Systems Fellowship are both strategizing ways to build power in our communities to fight against these injustices and build a healthier future for all. I am excited to continue learning and growing in my role in this work and to learn Mississippi's food systems, utilizing my skills and knowledge to contribute positively to transforming Mississippi food systems.
For more information, contact Asha Tillman directly at ashat@ncat.org.
https://attra.ncat.org/wp-content/uploads/2020/08/ms-food-justice-team-2020-sm.jpg
300
400
ncat-admin
/wp-content/uploads/2022/06/ATTRAlogo_RGB-340x156.png
ncat-admin
2020-08-21 06:15:05
2022-09-26 12:43:05
Mississippi Food Justice Collaborative: Transforming Mississippi Food Systems